Mon., Jan. 6, 2014, 8:37 a.m.
Brannon Praises County Workers
Kootenai County Clerk Jim Brannon told the Panhandle Pachyderm Club on Friday that in nine days on the job, there have already been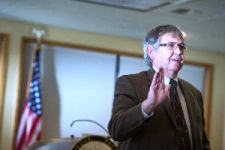 some refreshing surprises. "It's a lot easier to shoot from outside than from inside," Brannon said. He shared some glowing praise for his new co-workers, who have been helping him get up to speed after he was appointed on Dec. 20 to the post by the county commissioners. "Everybody at Kootenai County that I have had encounters with, from the commissioners on down to everyone who works there, they know you're their clients," Brannon told the club. "They want to provide exemplary service, (and) they want to do it in a cost-effective manner and so we pay less taxes"/David Cole, Coeur d'Alene Press. More here.
DFO: I was pleased to read later in the article that Brannon had lavish praise for Deputy Clerk Pat Raffee and elections manager Carrie Phillips. It's a good sign that he's praising the hard-working employees at the Kootenai County courthouse rather than seeking to replace key officials with political appointees.
Thoughts?
---
---