Tue., Jan. 7, 2014, 11:13 a.m.
Carlson: 3 Strikes & Crapo's Out
No holder of high public office in Idaho could have been happier to see 2013 end than U.S. Senator Mike Crapo, the senior member of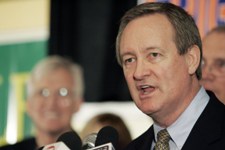 the state's four-member, all Republican delegation. Counting Christmas of 2012, in slightly more than 365 days the normally quiet workhorse (as opposed to a show horse) made the headlines on three occasions that can only be described as embarrassing and mortifying to a senator long known for his probity and sense of propriety/Chris Carlson, The Carlson Chronicles. More here. (AP file photo, of Sen. Crapo at his 2010 election victory party in Boise)
Question: Has U.S. Sen. Mike Crapo, R-Idaho, been in Washington so long that he's gotten careless?
---
---