Tue., Jan. 7, 2014, 10:51 a.m.
Dems Respond To Otter Ed Proposals
House and Senate Democrats, responding today to Gov. Butch Otter's State of the State message yesterday, pledged to work with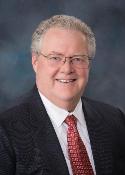 majority Republicans, but also outlined sharp differences, especially over funding priorities. "Our budgeting shows our values," said House Minority Leader John Rusche, D-Lewiston, pictured. "Idaho's public schools have seen deep cuts. The majority claims that these cuts were unfortunate results of a national recession. We strongly disagree. These cuts were choices, intentional and deliberate." He said, "Idaho budget policy is starving schools. Every community that has had to pass a school override levy to pay for basic school costs understands that this is true. Every rural school district that has had to drop from offering school five days a week down to four days a week knows this is true"/Betsy Russell, Eye on Boise. More here.
Question: Do you believe that the Otter administration/Legislature cut school budgets, as a result of the Great Recession, or did they take advantage of the recession to cut education budget more than necessary?
---
---