Tue., Jan. 7, 2014, 5:20 p.m.
I-90 Crash Kills 2 Post Falls Residents
Two Post Falls residents were killed when their 1997 Nissan Pathfinder hit icy on eastbound I-90, slid across the median, and were struck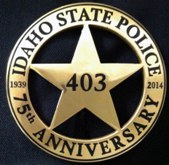 by a truck traveling in the westbound lanes near Cataldo. Benjamin M. Mullican, 39, and Korie L. Mullican, 36, died after the accident at about 10:32 this morning, according to the Idaho State Police. There crash was one of four that occurred on a half mile, icy stretch within 30 minutes and closed both lanes of the interstate for six hours. The semi that struck the Mullicans was driven by Philip N. Giesbrecht, 58, of Abbotsford, British Columbia. Giesbrecht had a passenger in his vehicle. ISP report here.
---
---