Tue., Jan. 7, 2014, 1:48 p.m.
Norman: No Fan Of Seahawks
There is one reason to admire the Seattle Seahawks: Russell Wilson. But there might be close to 100 reasons to not admire the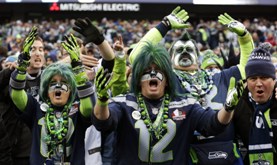 Seahawks, and 92 of them involve Pete Carroll. So though I love the city of Seattle and root for the MLB Mariners and wish the NBA SuperSonics were still there, every ounce of NFL blood in my perpetually prone body will be dedicated to seeing someone beat the Seahawks between now and Super Bowl 48. First up, the New Orleans Saints this Saturday. ... The Seahawks are 13-3 because, with Wilson at quarterback, they play smart offensive football, coupled with bruising defensive football. A fan could fall in love with them, except that they're already so in love with themselves/Chad Norman, The Slouch. More here. (AP file photo)
Question: Are Seattle Seahawk fans more/less/same obnoxious as Norman seems to think the players are?
---
---