Tue., Jan. 7, 2014, 4:31 p.m.
Spokane Valley Hooters Shuts
The Hooters Restaurant is Spokane Valley closed Tuesday. The owner's of the Hooters along Indiana made the announcement Tuesday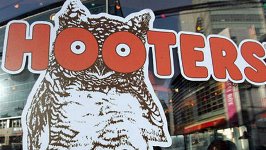 morning. Hootwinc LLC stated that the Owl Club Casino located in the same building will remain open. Two new businesses will open in Hooters location according to Hootwinc LLC officials. The first new restaurant opens in early 2014 according to Hootwinc LLC plans. The business plan called for a farm-to-table urban farm fusion cuisine breakfast concept called, "Egg it On". The breakfast concept will offer enormous sized portions where breakfast go-ers can indulge/KREM2. More here. (Illustrative photo: KREM)
Question: Am I the only one who never visited the place?
---
---