Wed., Jan. 8, 2014, 3:18 p.m.
Dogwalk: Why Dis Disney?
Last November I wrote a post lamenting a book that was receiving some attention for portraying the dark side of Norman Rockwell, the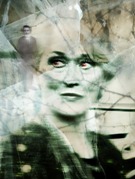 iconic illustrator of American life. It struck me as sad that with so much evil in the world, why it was necessary to explore this side of a man, long dead, who brought so much joy to the casual observer. You didn't have to be a patron of the arts to appreciate Rockwell's work. Nor did those of us enjoying it at the time, even think of looking for something tawdry hidden within. Now, it seems, Meryl Streep has found it necessary to do much the same to Walt Disney. Also long gone from this earth but hardly forgotten. He hated women. He was anti-Semitic. He didn't trust cats. Neither does my husband but that doesn't make him evil. What is it with these celebrities?/Dogwalk Musings. More here.
Question: Would you think less of Walt Disney productions if you read or heard information about his purported dark side?
---
---