Wed., Jan. 8, 2014, 8:51 a.m.
Edit: Otter Still Lowballs Government
If Idaho's governor were intent on rebuilding a state still shaking off the effects of a deep recession, he'd marshal resources from an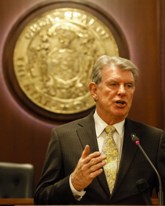 emerging economic recovery struggling to refill the budget holes still left behind. He would aggressively restore the estimated $113 million schools lost in their operational accounts. Such a governor would help state employees at least keep up with inflation, let alone recover the losses suffered through three years of pay freezes during the past half-decade. And he would talk about restoring money drained from programs meant to help the most vulnerable among us. But that's not the governor Idaho has/Marty Trillhaase, Lewiston Tribune. More here. (AP file photo)
Question: Do you think Gov. Otter has taken a responsible approach to funding state government needs?
---
---