Thu., Jan. 9, 2014, 10:16 a.m.
Clark: Spokane Needs Tat Control
I've never been so municipally mortified. With all the debate over gun control, I think it's high time we also had a serious discussion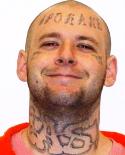 about … Tattoo control. I give you Exhibit A: The mug shot of accused killer Brandon Mellon that appeared on The Spokesman-Review's website Tuesday and is on page A6 today. The arrogant smirk on this 10-time felon's face is disturbing. But the seven letters tattooed across the 26-year-old's forehead could make a Chamber of Commerce official take a header off the Lincoln Building. "S-P-O-K-A-N-E." Oh, the calamity. Is this the Face of Spokane for the 40th anniversary of Expo '74? I wouldn't be surprised/Doug Clark, SR. More here.
Question: Are you glad that "Coeur d'Alene" is too long to print on a felon's forehead?
---
---