Thu., Jan. 9, 2014, 8:26 a.m.
Crash Kills Priest Lake Airman
Police say the bodies of four U.S. Air Force crew members, including two from the Northwest, have been recovered from the site of a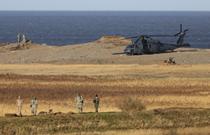 helicopter crash in eastern England. Capt. Christopher S. Stover of Vancouver, Wash., Staff Sgt. Afton M. Ponce of Priest River, Idaho, Capt. Sean M. Ruane and Technical Sgt. Dale E. Mathews died when their Pave Hawk helicopter came down in a marshland nature reserve on the Norfolk coast on Tuesday. An ambulance was seen removing bodies from the marsh Thursday after what officials called a "complex" recovery operation. Norfolk Police say there is no evidence the crash was a criminal matter. The U.S. Air Force will lead the accident investigation/Associated Press. More here. (Chris Radburn photo: Wreckage of a US Military Air Force Pave Hawk helicopter, partially obscured in front of helicopter right, lies on the ground in Salthouse, England)
Thoughts?
---
---