Thu., Jan. 9, 2014, 8:58 a.m.
Fallen Sandpoint Airman Laid To Rest
A Peterson Air Force Base airman, recalled by friends as a "gentle giant," was laid to rest Wednesday in the U.S. Air Force Academy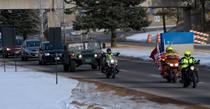 cemetery in Colorado. Capt. David Lyon, 28, of Sandpoint, was a former academy track star who was killed Dec. 27 in Kabul, Afghanistan, when a car bomb detonated near his convoy. Lyon, a logistics readiness officer and 2008 academy graduate, was performing a combat advisory mission with Afghan National Army Commandos at the time of his death, according to Peterson officials. Two Slovakian troops were also killed in the attack, a NATO International Security Assistance Force-Afghanistan spokesman told the Gazette/Colorado Springs Gazette. More here. (Christian Murdock photo: The body of U.S. Air Force Capt. David Lyon is escorted Wednesday from his memorial service at New Life Church to the Air Force Academy)
Thoughts?
---
---