Thu., Jan. 9, 2014, 5:08 p.m.
GSL Principals OK Grid League Split
Ferris, Central Valley schedule games against Coeur d'Alene High
Greater Spokane League principals voted unanimously Thursday to scrap their traditional football schedule and crown 4A and 3A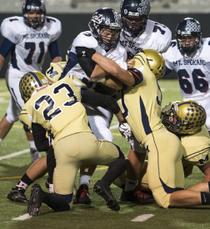 champions. Beginning in the fall, GSL schools will play a seven-game schedule with the six 4A schools having two open dates and the four 3A schools having three open dates. The schools can fill those dates with nonleague games or crossover matchups, GSL secretary Herb Rotchford said. The principals rejected the athletic directors' proposal to continue with the traditional schedule. "I'm very proud and very thankful we have those 10 principals who are ready to lead their communities as it applies to maintaining competitive equity for all student athletes," Rotchford said. "It's a watershed moment in many ways"/Greg Lee, SR. More here. (Colin Mulvany SR file photo: Mead and Mt. Spokane would still play each other under the new alignment, but their game would not count in league standings)
Question: Are you happy to see Spokane high school teams schedule games with Idaho schools?
---
---