Thu., Jan. 9, 2014, 8:47 a.m.
McEuen Field Work Behind Schedule
The McEuen Park reconstruction project has fallen behind schedule, but Mayor Steve Widmyer said city staff and the contractors are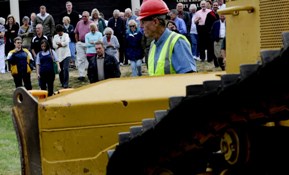 working to get it back on track for a May opening. At one point, Widmyer said contractors said McEuen may not open until the first of July. "That is just unacceptable," Widmyer said. Widmyer and city staff will be meeting with Contractors Northwest, Inc. and the Miller Stauffer Architects in the next few days to discuss scenarios to get the project back on track. City Engineer Gordon Dobler said the contractor is having a difficult time scheduling subcontractors, which has set them back from delivering the park to the city on the contractual May 2 deadline/Jeff Selle, Coeur d'Alene Press. More here. (SR file photo: Small crowd was on hand for McEuen Field groundbreaking on Sept. 10, 2012)
Question: Do you agree with Mayor Widmyer that McEuen Field should open on schedule?
---
---