Thu., Jan. 9, 2014, 12:58 p.m.
Sandpoint Coaches Recall Sports Star
His football coach remembers him as a warrior on the field and a gentle giant off it. His track coach recalls a tireless worker and the kind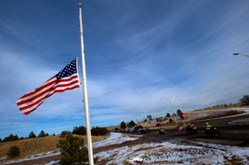 of student-athlete you want your kids to emulate. His basketball coach remembers someone who led by example, to say nothing of setting a mean screen. The Sandpoint Bulldog family suffered a big loss recently when David Lyon, 28, was killed in action in Afghanistan. Formerly David Lissy, Lyon left a lasting impression on many people in Sandpoint, including three coaches who saw firsthand the talent that led to his induction into the Bulldog Athletic Hall of Fame in 2012. There are lots of three sport athletes in high school, but select few who excel at an elite level in all three, as Lyon did before graduating from Sandpoint in 2003/Eric Plummer, Hagadone News Network. More here. (AP photo: U.S. flag flies at half staff at Air Force Academy in Colorado, where Air Force Capt. David Lyon's body was taken for burial Wednesday)
Question: Do you recall an athlete from your high school days who was killed in military action?
---
---