Fri., Jan. 10, 2014, 8:20 a.m.
Coeur d'Alene Bids Bloem Farewell
The mood was warm and informal at Mayor Sandi Bloem's farewell open house Thursday night at the Salvation Army Kroc Center. More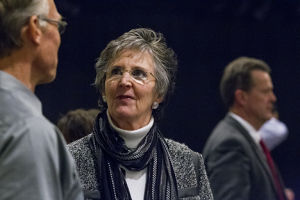 than 75 people filtered in and out of the reception to greet the former mayor and wish her farewell after serving as the first female and longest-sitting mayor of Coeur d'Alene. There was little fanfare as the mayor worked the room. In fact, there was no ceremony at all until Maj. Ben Markham of the Salvation Army stepped up to give the mayor a final award. "You know we've given her awards," Markham said. "She has already received the highest award the Army can give to a volunteer who helps us accomplish our goals. "It's the William Booth Award. We surprised her with it last year in recognition of all of the great stuff she has done - not just for the Salvation Army - but the entire community"/Jeff Selle, Coeur d'Alene Press. More here. (Coeur d'Alene Press photo: Shawn Gust)
Thoughts?
---
---