Fri., Jan. 10, 2014, 8:56 a.m.
Friends Remember I-90 Crash Victims
Ben and Korie Mullican were longtime sweethearts who got married shortly after high school. They raised two children together, went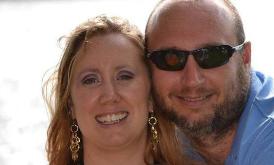 camping together as a family and were the kind of dynamic couple who knew how to have fun. Tuesday morning, Ben and Korie Mullican were killed in an auto accident on Interstate 90 in the Silver Valley between Kingston and Cataldo. Due to the icy condition of the road, the eastbound Mullican vehicle went out of control, crossed the center median and collided with a truck traveling westbound. Ben was taking Korie to the hot springs in Montana for her birthday. She had just turned 36/George Kingson, Coeur d'Alene Press. More here. (Courtesy photo)
Question: Why do bad things happen to good people?
---
---