Fri., Jan. 10, 2014, 4:27 p.m.
Idaho Stays Near Education Bottom
Idaho's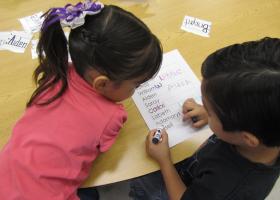 education system saw no significant improvement in the past year, at least according to Education Week's 2014 Quality Counts state report card. The annual report from the education-focused news outlet is frequently cited by all sides during education debates in Idaho. Education Week didn't hand out national state grades or rankings this year because it couldn't get enough information in three of its six categories. But last year, Idaho's education system received a C- and ranked ahead of only Nevada and South Dakota/Adam Cotterell, Boise State Public Radio. More here. (Boise State Public Radio photo: Preschoolers in Caldwell's P-16 program practice writing their names)
Thoughts?
---
---