FRIDAY, JAN. 10, 2014, 9:07 A.M.
Judge Embraces Conservatism
What is it to be a conservative judge? First District Judge Lansing Haynes made that question the title of his speech Thursday at a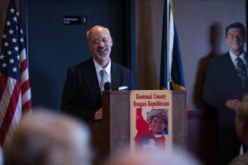 meeting of the Kootenai County Reagan Republicans at Fedora Pub and Grille. "I can tell you that I have intentionally and volitionally have set out to be a conservative judge," Haynes said. To the people who know him well, he said, there has never been a mystery where he stands. "I'm conservative personally, conservative religiously, (and) conservative socially," Haynes said. "As chief deputy prosecutor for 18 years, I had somewhat of a reputation for being a so-called tough prosecutor"/David Cole, Coeur d'Alene Press. More here. (CdA Press photo: Gabe Green)
Question: Is there such a thing as a Republican judge or a Democratic judge?
---
---