Tue., Jan. 21, 2014, 5:23 p.m.
A Bus Of A (Slightly) Different Color
Little-known fact: When a school bus is decommissioned, state law requires that all school bus markings be "obliterated" and its paint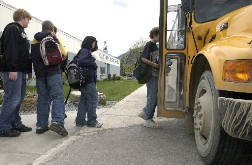 color be changed, before it can run on state highways. A state trooper in Coeur d'Alene recently ticketed someone for not doing that. "It was still school bus color, and they wrote 'em a ticket," said Kootenai County Sheriff Ben Wolfinger. But when the officer was preparing to go to court, it was discovered that Idaho's state law still referred to the color of school buses as "school bus chrome," a name that goes back to the 1930s. "School buses haven't changed color," Wolfinger said. "That color has now changed names." It's now officially known as "glossy yellow, federal standard 595a, color number 13432." The trooper contacted Wolfinger, and he contacted his local senator, Senate Education Chairman John Goedde, R-Coeur d'Alene, to work on a bill to update the state law/Betsy Russell, Eye on Boise. More here. (SR file photo)
Question: On a scale of 1 to 10, how high would your rate the importance of this issue?
---
---