Tue., Jan. 21, 2014, 8:41 a.m.
INW Prepares For More Oil Trains
A string of train accidents involving crude oil shipments in the U.S. and Canada is causing uneasiness in Spokane and other communities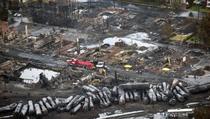 bisected by railways. And the safety of rail cars and hazardous cargo is under intensifying scrutiny. With the number of oil trains from the upper Great Plains expected to increase through the Spokane area, the risk of spills and potentially deadly fires is a growing concern, City Council President Ben Stuckart said. "These are almost moving bombs," Stuckart said. "They're carrying highly explosive material." Spokane is a pinch point for rail traffic through the region. The tracks for BNSF Railway Co., a major oil hauler, cross the Spokane River, pass near schools and cut through downtown beside retail centers, office towers, hospitals and Interstate 90/Scott Maben & Becky Kramer, SR. More here. (AP file photo: Workers comb through debris on last July 9, three days after an unattended train with 72 cars carrying crude oil rolled away and derailed in Lac-Megantic, Quebec, setting the downtown ablaze and killing 47)
Question: Do you believe that oil trains rumbling through the Inland Northwest are hazardous to the health of residents & the environment?
---
---