Tue., Jan. 21, 2014, 5:06 p.m.
Oregonian Going Tabloid
The Oregonian will transition from a broadsheet size to a compact format this year, the Oregonian Media Group announced Tuesday. "The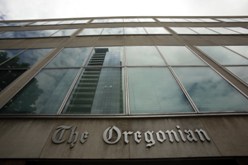 new format will allow for a stronger visual presentation of editorial content and advertising," said N. Christian Anderson III, president of Oregonian Media Group and publisher of The Oregonian. "With color on every page and a streamlined design, the compact will be a richer experience for our readers." The compact size will measure about 15 inches tall by 11 inches wide, the format Homes & Gardens of the Northwest is currently printed in/Oregonian. More here. (AP file photo, of Oregonian building in Portland, Ore.)
Question: Would you prefer a tabloid version of The Spokesman-Review or Coeur d'Alene Press if it was available?
---
---