Wed., Jan. 22, 2014, 4:50 p.m.
Amanda Knox Case Has CdA Angle
Amanda Knox wasn't the only woman that Raffaele Sollecito proposed to in the hopes that he could secure a green card and save himself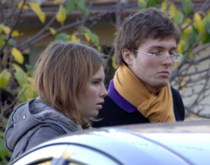 from potentially going back to an Italian jail for Meredith Kercher's murder. RadarOnline.com can exclusively reveal that Sollecito tried to convince an American woman named Kelsey Kay, from Coeur D'Alene, Idaho, to sign a contract that would have bound her to him in a marriage-for-citizenship arrangement. In a sit-down interview with Radar, Kay revealed that she first connected with Sollecito online after reading his book, "Honor Bound," and finding his GoFundMe Page linked to his Facebook profile/Lindsey DiMattina, RadarOnline. More here. (AP file photo: This Nov. 2, 2007, file photo shows American exchange student Amanda Knox, left, and her Italian boyfriend Raffaele Sollecito outside the rented house)
Thoughts?
---
---