Wed., Jan. 22, 2014, 1:31 p.m.
Bedke Targets Grocery Tax Credit
House Speaker Scott Bedke will introduce a bill to drop Idaho income taxes and pay for it by ending the $80-per-person grocery tax credit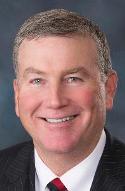 claimed by middle- and high-income Idahoans. Bedke said he plans to introduce the measure as early as this week. He proposes continuing the $100 grocery credit for Idahoans with incomes below 138 percent of the federal poverty level and the $120 credit for those 65 and older. He aims to drop top personal and corporate tax rates from 7.4 percent to 6.95 percent. The Oakley Republican said that will attract new business, boost the economy and spur Idaho's transition from an agricultural to a high-tech economy/Dan Popkey, Idaho Statesman. More here.
Question: Am I the only one who thinks this is a bad idea?
---
---