Wed., Jan. 22, 2014, 10:15 a.m.
Idaho Biz Targets Tea Party Challenge
Ground zero in the Republican Party's fight to define its future is on the opposite side of the country from Washington, amid snow-covered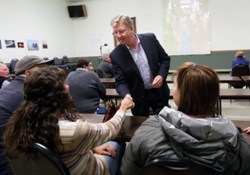 mountains and the Snake River canyon, in a U.S. House race that pits the business community against the Tea Party. It's here in Idaho's 2nd District where Representative Mike Simpson, an Appropriations Committee chairman and ally of House Speaker John Boehner, is fighting for re-election against fellow Republican Bryan Smith, a lawyer and political novice aligned with the limited-government movement. Smith says Simpson doesn't reflect the district's "conservative values" and multiple Tea Party groups are backing him. The threat to Simpson has awakened national and local business groups and Idaho companies with little or no history of getting involved in primary contests. And defending Simpson is a top priority for the U.S. Chamber of Commerce/John McCormick, Bloomberg Business. More here. (AP file photo: Bryan Smith shakes hands with supporters at Montpelier last fall)
Question: Are you as concerned today with the Tea Party's influence in Idaho as you were 3 years ago?
---
---