Thu., Jan. 23, 2014, 2:50 p.m.
Ex-Olympian To Run For Idaho House
Former Olympic champion Dick Fosbury, a Democrat, will challenge state Rep. Steve Miller, R-Fairfield, for his District 26 come this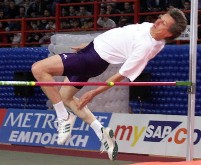 November. Fosbury moved to Ketchum in 1977. He's a retired engineer who currently sits on Blaine County's Planning and Zoning Commission. This will be his first attempt to run for state office. Miller won the the District 26 seat in 2012 after running unopposed in the Republican Primary. He won the general election with 50.9 percent of the votes against Democratic nominee John Remington. You may know Fosbury for his gold medal he won in the 1968 Olympics in the high jump. He was the first to use the "back-first" technique, which is now known as the Fosbury Flop/Kimberlee Kruesi, On The Agenda. (AP file photo: Dick Fosbury shows his revolutionary technique in February 2000 exhibition in Greece)
Question: Did you know that the creator of the Fosbury Flop was an Idahoan? I didn't.
---
---