Thu., Jan. 23, 2014, 4:59 p.m.
Johnson: The Best In The World
I can make this statement without fear of contradiction: Itzhak Perlman (shown in AP file photo) is the greatest violinist in the world. Make a similar claim about a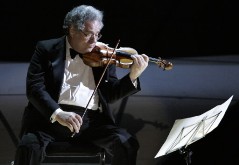 baseball pitcher or an NFL quarterback and you're certain to get an argument about whether so-in-so is better than such-and-such. With Perlman no such argument is possible. He is the best – period. I've heard him play twice now once some years ago at the Kennedy Center in Washington, D.C. and more recently with the Tucson Symphony Orchestra. The Kennedy Center performance was unique for me. I arrived in the big city late in the day, checked the Washington Post to see what entertainment might be available and notice the Perlman concert. Expecting to be disappointed, I called the box office and was told only single tickets remained and that they were "stage seats" – 15 or 20 chairs, really, arranged in a row right on the stage. I grabbed a ticket and watched the great artist from a wonderful vantage point – better than front row center – and even closer/Marc Johnson, The Johnson Post. More here.
Question: Are you a fan of classical music?
---
---