Thu., Jan. 23, 2014, 5:02 p.m.
Resort Security Spots Room Thief
Police are searching for a suspect that broke into empty rooms at the Coeur d'Alene Resort and stole liquor. Authorities said a security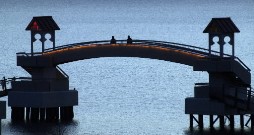 guard at the resort called police and said they found a man in room and he was not a guest at the resort. When the security guard spoke with the suspect, he told him he was looking for his girlfriend according to a police report. Then, the suspect took off and jumped a fence by the McEuen construction area. The security guard said the suspect was wearing jeans, a zip up hoodie and was approximately 5'9" or 5'10"/Taylor Viydo, KREM2. More here. (SR file photo)
Question: Do you ever buy bottles of booze stocked in expensive hotel rooms?
---
---