Thu., Jan. 23, 2014, 9:01 a.m.
Seattle Fan Down To Painted Toes
Some people wear their dedication to their teams on their sleeves, sporting jerseys and jackets with team colors and logos. Some folks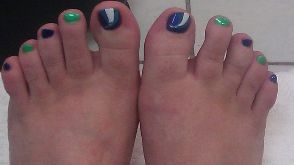 fly their pride from their flagpoles, car antennas or Clocktowers with billowing banners showing support. I thought about that last week as I sat in the pedicure chair of a local salon, while a nail technician painted my toenails Seahawks green and blue. Only four letters separate fan from fanatic, but despite my Seahawks pedicure I don't think I'm quite ready to add those letters. I fell in love with football long before I had four sons – but love definitely has something to do with it. You see, my high school sweetheart played football and I spent many Friday nights under the bright lights of Joe Albi Stadium. Quickly, I mastered the ins and outs of the game so I could engage in conversation with him that involved words instead of merely sighs and eyelash flutters. Even better, the Seahawks franchise was brand new at the time, and that gave me something to watch with my dad/Cindy Hval, SR Front Porch. More here.
Question: How do you show support for your favorite team?
---
---