Fri., Jan. 24, 2014, 10:41 a.m.
Backers Push 'Add The Words' Again
Backers of the "Add the Words" legislation, to add the words "sexual orientation" and "gender identity" to the Idaho Human Rights Act to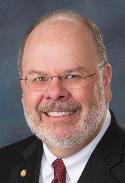 ban discrimination in employment, housing and public accommodations, announced today that GOP leaders in both houses have informed them there will be no hearings on the bill this year. "Earlier this week, Speaker Bedke said that the Legislature is an 'arena of ideas' and that all ideas deserve consideration and an up or down vote," Rep. Grant Burgoyne, D-Boise, (pictured) said. "Without explanation, the idea that all Idahoans should be free of discrimination … is somehow deemed to be outside the field," he said/Betsy Russell, Eye on Boise. More here.
Question: Should the Idaho Legislature, at least, grant a hearing for "Add the Words" legislation?
---
---