Fri., Jan. 24, 2014, 3:47 p.m.
North Idaho Beauty & Local Authors
In her latest Writing North Idaho blog post, Kathy Cooney Dobbs gives a shootout to four North Idaho authors, including Marianne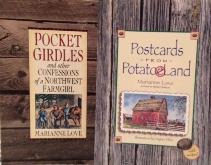 Love/Slight Detour who penned (among other books) "Pocket Girdles and other Confessions of a Northwest Farm Girl." Marianne's book of humorous, autobiographical stories inspired Dobbs, who writes: I decided I wanted to write memoir, to tell stories like she did, in a humorous, heartfelt way. Other North Idaho authors spotlighted in Dobbs' blog post include: Nancy Owens Barnes ("Moose for Breakfast Outdoor Poems & Essays"), Elizabeth S. Brinton ("My American Eden / Mary Dyer, Martyr for Freedom"), Phyllis Horne ("The Carnival Girl - One Woman's Journey Through the Carnival Life"), and Ana Parker Goodwin ("Justice Forbidden - A Dr. Faythe Bradington And L.P. Sanborn Novel"). You can read the entire post here.
Question: Have you read a book(s) by a North Idaho author? Would you recommend it?
---
---