Fri., Jan. 24, 2014, 8:21 a.m.
Reach America Urges Youth Outreach
Gary Brown (pictured), president of Coeur d'Alene-based Christian ministry and education program Reach America, has a bit of advice for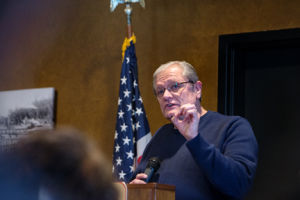 local Republicans. To win the future politically, he said, younger generations must be won over. Conservatives haven't done a good job of that, and need a new strategy, Brown said Thursday, speaking to the Kootenai County Reagan Republicans at Fedora Pub and Grille. He believes the political party needs to reach middle- and high-school students, and build relationships with them. The purpose is not to recruit them, he insisted, but to listen to them and help them realize their importance to the political process/David Cole, Coeur d'Alene Press. More here.
Thoughts?
---
---