Mon., Jan. 27, 2014, 8:27 a.m.
Denney Benefits From 'Duck' Link
Idaho state Rep. Lawerence Denney's upcoming fundraiser with reality TV show star Phil Robertson of "Duck Dynasty" isn't hurting his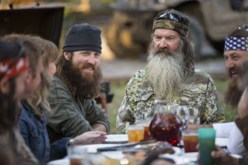 campaign for secretary of state. "We do get a lot of publicity out of it," the former Idaho House Speaker said Friday in an interview with The Press' editorial board. The March 29 VIP fundraiser in Nampa with the Robertson family from the A&E show is expected to raise plenty of money, too, he said. Denney is no stranger to the Robertson family. He has visited the family in Louisiana, and Phil Robertson's son Alan, a pastor, conducted the marriage of Denney's daughter and her husband. "We've known of them for quite a while," Denney said. The Robertsons got a lot of national attention after a magazine interview in which Phil Robertson made comments about homosexuals/David Cole, SR. More here. (AP file photo: "Duck Dynasty" patriarch Phil Roberson, center, surrounded by sons)
Question: Can you name any of the other candidates in the Secretary of State race?
---
---