Mon., Jan. 27, 2014, 2:50 p.m.
Druid: Rand's 'Fountainhead'? Ho-Hum
I had read this book many decades ago when I was a teenager. My late dad brought "The Fountainhead" home from some fellow he knew,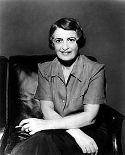 a fellow who loaned it to him. Dad said then, that the fellow wanted him to read this book. Well, I read it through first. I asked to read it, and was finished with it in a matter of days. It is this book that lingered in my thoughts over a good many years. Unlike "Atlas Shrugged," which I hoped would be just as engrossing, and sadly, proved not to be. In my novel which I will soon complete, "Atlas Shrugged" became the novel I did not read to completion. But "The Fountainhead" became the basis for arguing why Ms. Rand was ignorant and very naive. I continue to stand by that/Arch Druid. More here. (Wikipedia photo of Ayn Rand)
Question: Have you read Ayn Rand's "Fountainhead" or "Atlas Shrugged"? Do you agree/disagree with Arch Druid's evaluation of them?
---
---