Mon., Jan. 27, 2014, 9:02 a.m.
Guns-On-Campus Bill Introduced
The Senate State Affairs Committee this morning, without objection, voted to introduce a new bill to allow concealed firearms on Idaho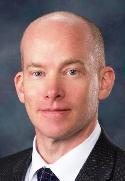 public college campuses under certain circumstances; the same panel has rejected such legislation in past years. "It's an issue that relates to a fundamental one in our state Constitution," Sen. Curt McKenzie, R-Nampa, (pictured) told the panel; he chairs the committee, but handed the gavel to vice chair Patti Anne Lodge, R-Huston, so he could present the bill. "The people have the right to keep and bear arms, which is a fundamental right that we put in our Constitution. This addresses that particular right on college campuses/Betsy Russell, Eye on Boise. More here.
Question: Do you support/oppose this bill?
---
---