Mon., Jan. 27, 2014, 5:02 p.m.
Sandpoint Men's Group Going Strong
As many men age, they realize something is missing in life. Often this epiphany is sparked by a collapsing marriage, unfulfilling career or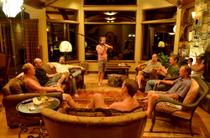 shortage of friends. Perhaps the children are gone and there is nothing to fill the time once consumed raising kids. So what's a guy to do? Silently suffer. Divorce. Quit. Join a poker group. Buy a sports car. Not if Owen Marcus has anything to say about it. He wants men to learn how to connect with their emotions and build a support group with other men – a bond that's more real than drinking beer and watching the game. Yet not so extreme as a boot camp weekend in the woods with a loincloth and instructions on hunting and gathering your own food. In other words, join a men's group/Erica Curless, SR Boomer U. More here. (SR photo)
Question (for Men of HBO): Would you be interested in joining a men's group?
---
---