TUESDAY, JAN. 28, 2014, 3:35 P.M.
Dogwalk: Ain't Gonna Watch Speech
I am not going to watch the State of the Union speech tonight. I'm just not up to it. It will be nothing new. The President will lay out his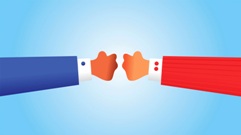 intentions and lay the ground work to blame the Republicans if he isn't successful. Nothing new. His tone will be confrontational, not conciliatory. I'm not sure he even knows what it means. With all the talk that goes on about bullying, from my observations the President and Harry Reid are the biggest bullies in the country. Yet they never seem to be called on it. People are too conscious of having to be politically correct to be able to speak truths without somehow softening them. I cannot sit and listen to the President's plans to pull the country further to the left. To continue spending money unchecked. And most of all, his blatant contempt of the rule of law/Dogwalk Musings. More here.
Question: What are you hoping to hear tonight in the president's State of the Union speech?
---
---