Tue., Jan. 28, 2014, 5:08 p.m.
Letter Prompts City Park Upgrade
It began with a simple letter written by young Coeur d'Alene students. It ended with an improved playground and lots of smiles. Thanks to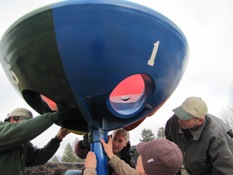 a cooperative effort between the city of Coeur d'Alene and the Coeur d'Alene School District, students at a local elementary school now have a new piece of playground equipment. At the request of the students, city officials this week installed a "funnel ball hoop" at Sunset Park, located about a block from Pathways School on Best Avenue. The project was prompted by a letter written last fall to the mayor and superintendent reading, in part, "We would like our playground at Sunset Park to be improved … things that would make or recess more exciting"/Keith Erickson, Coeur d'Alene Today. More here. (Coeur d'Alene Today photo: City parks crews install the funnel ball)
Question: Which city park in North Idaho is your favorite?
---
---