Tue., Jan. 28, 2014, 8:39 a.m.
Popkey: Luna Takes 1 For The Team
Though Tom Luna had plenty of partners in passing the ill-fated Students Come First reforms in 2011 — including Gov. Butch Otter — he's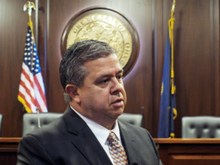 the one whose brand suffered badly as voters rejected the package in 2012. With polls showing Luna remained damaged goods, he gracefully exited Monday after months of saying he planned to run for a third term as super-intendent. Luna's news conference came with less than three hours notice and caught plenty of people by surprise. Senate Education Committee Chairman John Goedde, R-Coeur d'Alene, one of Luna's closest allies, said he had "a little hint" on Friday and then got the news from Luna in a Sunday night phone call/Dan Popkey, Idaho Statesman. More here. (AP photo)
Question: Popkey goes on to say that Republicans are now free to find someone who'd have a better chance against Democrat Jana Jones, who lost to Luna only 51% to 49% eight years ago. Could Luna have won re-election?
---
---