Tue., Jan. 28, 2014, 8:43 a.m.
Wasden To Defend Gay Marriage Ban
Unlike his counterpart in Virginia, Idaho Attorney General Lawrence Wasden says his personal views on same-sex marriage are irrelevant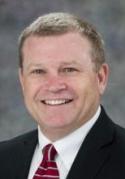 when it comes to defending the state's Constitution. It's safe to say Wasden and Virginia Attorney General Mark Herring look at their jobs very differently. Herring announced last week he would not defend his state's ban on same-sex marriage. Instead, he's joining gay couples who are suing the state over the ban. Herring told NPR he thinks the law violates rights guaranteed by the 14th Amendment of the U.S. Constitution. ... Idaho's Attorney General Lawrence Wasden meanwhile won a federal judge's permission to help the state of Idaho defend its voter-approved ban on gay marriage. Four gay couples are suing the state over its 2006 constitutional amendment that makes it illegal for same-sex couples to wed/Scott Graf, Boise State Public Radio. More here.
Thoughts?
---
---