Wed., Jan. 29, 2014, 3:48 p.m.
Dennis: Has Obama Gone Imperial?
Richard Nixon would have been proud of the 2014 SOTU speech. Accused during his administration of it being an Imperial Presidency,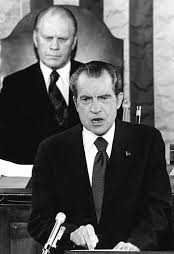 America responded. And it was not good for either the man, Richard Nixon OR the President, Richard Nixon. His lies prior to the 1974 SOTU speech showed that no man is above the law nor above the Constitution. Tonight, when President Obama stated tonight that he would "go it alone", he was specific - without the Constitutional authority of the US House and Senate - by Executive Order expansion. And, wow, did the focus groups go crazy. No matter what political party any of us are registered in, NONE of us want a President who says he's going to go it alone by an "expansion" of executive authority/Dennis Mansfield. More here.
Question: What did you think of the several times in the State of the Union speech that President Obama said he'd go it alone, if he couldn't get congressional approval for his proposals?
---
---