Wed., Jan. 29, 2014, 1:15 p.m.
If I Had A Hammer
This picture – former Vice President Henry Wallace with folk singer Pete Seeger in 1948 – likely didn't do Pete much good when he was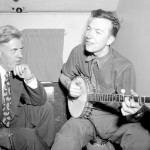 summoned in 1952 to name names before the communist hunting House Un-American Activities Committee (HUAC). To Seeger's eternal credit he refused to play the silly game, was held in contempt of Congress and sentenced to jail. The New York Post – as ridiculous as a newspaper in those days as it remains today – offered the headline: "Dangerous Minstrel Nabbed Here" in a story about Pete. Seeger had a particularly American attitude about a Congressional committee asking questions about his friends and associations. It was none of their business. Only a technicality kept him from prison/Marc Johnson, The Johnson Post. More here.
Question: Who is your favorite folk singer?
---
---