Wed., Jan. 29, 2014, 8:35 a.m.
McMorris Rodgers Rebuts President
President Barack Obama had a case of a person helped by health care reform. Rep. Cathy McMorris Rodgers had a case of someone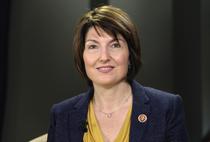 hurt by it. Obama proposed raising the minimum wage to give workers more take-home pay. McMorris Rodgers proposed cutting taxes and cutting energy and health care costs to let them keep more of their pay. Obama mentioned growing up the son of a single mom and reaching the White House. McMorris Rodgers talked about growing up the daughter of Kettle Falls fruit growers and reaching Congress. Obama honored a veteran struggling with his wounds from war. McMorris Rodgers paid tribute to a Spokane soldier who died. The Eastern Washington Republican's response to the State of the Union was a clearly calculated rebuttal/Jim Camden, SR. More here. (AP photo)
Question: I thought McMorris Rodger did a fine job responding to the president, certainly better than Marco Rubio last year. What do you think?
---
---