Wed., Jan. 29, 2014, 11:15 a.m.
Thayn Mulls Superintendent Race
State Sen. Steven Thayn has had a change of heart — partially, at least — on a run for state superintendent of public instruction. For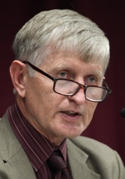 months, Thayn had ruled out a run. But that has changed with incumbent Tom Luna's announcement that he will not seek a third term. "I am considering it," Thayn, R-Emmett, told Idaho Education News this morning. Thayn says he has had between 15 and 30 people approach him about running for state superintendent. He expects to make a decision shortly — before Republicans and their top-of-the-ticket candidates go on their annual Lincoln Day banquet circuit. He'd also like to decide so potential state Senate candidates can consider a run/Kevin Richert, The EDge. More here. (Duane Rasmussen file photo, of Thayn during his visit to Coeur d'Alene with Sen. Russ Fulcher to push MP2 project in mid-November)
Question: Hmm. I might vote for Luna over this guy, if forced to choose. Thoughts?
---
---