Thu., Jan. 30, 2014, 5:03 p.m.
Gissel Invites All To Coffeefest
Human-rights activist Norm Gissel, pictured, is inviting anyone who wants to talk human rights to have coffee with him from 8 to 9 Friday mornings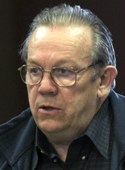 at Java on Fourth. Here's the text of a Human Rights Education Institute release: "If you are interested in good conversation, new ideas and human insight... this is for you! Buy your cup of coffee and sit down for thought provoking discussion on human rights, politics, history, art, current events, great books or any other idea that happens to come up, with respected civil rights attorney and maverick intellect, Norm Gissel. Fee: None. Buy your own coffee and treats. Date: Every Friday morning at Java, 324 Sherman Ave, CDA. More info: contact Kelly at HREI 208-292-2359 or Mary Jo Kringas, 208-699-1228.
Question: Is this invitation something that might interest you?
---
---