Thu., Jan. 30, 2014, 1:17 p.m.
Knox, Boy Toy Guilty Of Murder Again
American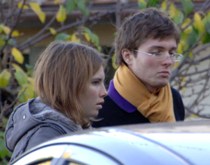 Knox -- who is in the US -- and her Italian ex-boyfriend Sollecito had pleaded not guilty. She was sentenced to 28 years and six months in jail, while Sollecito received 25 years. The latest verdict overturns the pair's successful 2011 appeal, which freed them after four years in jail. Ms Kercher was stabbed to death in the flat she shared in Perugia with Knox. After nearly 12 hours of deliberations, the judges delivered their verdict in a courtroom in Florence, Tuscany/BBC. More here.
Question: Should the USA extradite Amanda Knox to Italy and prison?
---
---