Fri., Jan. 31, 2014, 5:12 p.m.
Preparing For Super Bowl Sunday
Facebook Friend Val Hughes posts:
I decided to shop this afternoon rather than tomorrow and I am glad! The grocery stores are already crowded with folks buying drinks and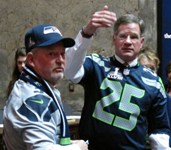 snacks for Sunday. At least today, the median age of shoppers was probably forty-ish. I bet that on Saturday, the median age for shoppers will plummet and a larger percentage of them will be male. I did enjoy all the uses of team logos and colors on food. I was unable to find a meatloaf in the shape of a football. (AP photo: Washington state Republican Sens. Mike Hewitt of Walla Walla, left, and Bruce Dammeier, right, of Puyallup, shown after passing a resolution honoring the Seattle Seahawks today)
Question: When do you buy your Super Bowl goodies?
---
---