Fri., Jan. 31, 2014, 1:11 p.m.
Woodings Enters Sec Of State Race
Rep. Holli Woodings, D-Boise, announced her candidacy for Idaho Secretary of State today, saying as a self-described "voting geek,"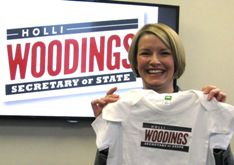 she'll put her top emphasis on keeping Idaho's election system open and fair, and "making sure that partisan interests do not have a place in that office." Woodings, 35, said the day she turned 18, the first thing she did was drive to the post office and register to vote. "I was going to be able to be involved and to have a part in the Democratic process," she said. "I really am committed to kicking down any barrier that stands between people and the polls"/Betsy Russell, Eye on Boise. More here.
Thoughts?
---
---