Tue., July 1, 2014, 1:10 p.m.
Bayview Days Almost Upon Us
The big week-end is almost upon us. Entertainment galore. But wait, there's more. This year, thanks to Chan Karupiah, owner of five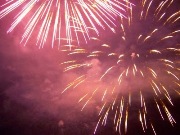 Bayview Marinas, the kids will have their venue as well. Chan has arranged to have a carnival which is being set up in the large parking lot across from the newly opened Bayview Mercantile. Adult entertainment as usual, will be provided by local bars. At JD's, from 1:00 pm to 5:00 pm, The Wilsons will perform. The evening entertainment will be provided by Dave Green and the sidemen. For Sunday morning survivors, bloody mary's and red beer will be mercifully provided/Herb Huseland, Bay Views. More here.
Question: Have you ever attended Bayview Daze?
---
---