Tue., July 1, 2014, 11:23 a.m.
CPD To Be Out In Force July 4th
Officers will be out in force to ensure that everyone has a safe celebration. There will be an extra emphasis in patrol throughout the city as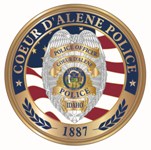 well as the downtown area, Tubbs Hill, the City Park and McEuen Park. As a reminder, fireworks and alcohol are prohibited in all city parks and on Tubbs Hill. For people enjoying the parks, there will be officers stationed in the Police and Fire Safety Building. This will serve as an area to bring lost children to, or report missing children/Sgt. Christie Wood, Coeur d'Alene Police Department. More here.
Question: Do you think your local police do a good job handling the crowds on the many big summer events on the Coeur d'Alene waterfront?
---
---