Tue., July 1, 2014, 11:53 a.m.
How Big Is Soccer In USA?
This is what you hear about soccer in the United States: You hear that soccer can never be as big here as it is in the big soccer countries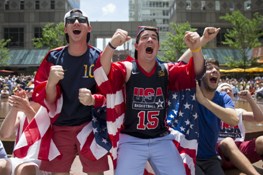 around the world because our best athletes, at least not enough of them, will never come to soccer first. In the other countries, their LeBrons start kicking a ball and here, first chance they get, they try to dunk it. Or throw it down the field to a speeding wide receiver. Or hit it out of sight with a bat in their hands. And there is something to that. Just maybe not on Tuesday afternoon in the World Cup, when it is the United States against Belgium, a chance at the quarterfinals on the line, a chance for Jurgen Klinsmann's players to keep this run of theirs going; a chance to keep the stage/Mike Lupica, New York Daily News. More here. (AP file football: USA fans cheer during their teams 1-0 loss to Germany last week)
Question: Will soccer ever be as big as one of the major sports -- football, baseball, basketball -- in the United States?
---
---